---
Recruitment of The New PCPB CEO
CLICK HERE FOR DETAILED REQUIREMENTS
 
RECRUITMENT FOR THE POSITION OF CHIEF EXECUTIVE OFFICER/SECRETARY
 
1) Job Specification
 
Duties and responsibilities will entail:-
     i.        Ensuring development and review of policies, strategic plan, business plan and work plan.
    ii.        Responsible for day-to-day running of the organization.
   iii.        Advising the Board on all policies and strategies relating to management of the organization;
   iv.        Secretary to the Board and custodian of the PCPB seal;
    v.        Ensuring proper interpretation and implementation of the Board of Management decisions;
   vi.        Monitoring implementation of Board decisions and appraising the Board on progress;
 vii.        Ensuring linkage of corporation staffing to Organizational objectives;
viii.        Providing leadership in developing, reviewing and implementing PCPB strategic plans and ensuring its compliance with the Constitution, Kenya vision 2030 and other prevailing government policies;
   ix.        Ensuring development and implementation of policies, strategies and internal control systems to ensure delivery of quality service to internal and external clients;
    x.        Ensuring development and implementation of an effective performance management framework for delivering the key priorities for PCPB;
   xi.        Leading in change management;
 xii.        Effectively mobilizing resources for PCPB activities;
xiii.        Ensuring prudent management of PCPB resources;
xiv.        Planning, directing and coordinating the administrative and office support of the organization;
 xv.        Ensuring effective communication between management and the Board, as well as between different levels of management and also stakeholders;
xvi.        Providing leadership and fostering teamwork among employees;
xvii.        Ensuring continuous achievement of the PCPB's financial and operations strategic objectives in line with its uniqueness;
xviii.        Managing corporate risk;
xix.        Initiating development of strategic partnerships and collaborations;
 xx.        Ensuring development and approval of the budget;
xxi.        Ensuring compliance with the statutory obligations;
xxii.        Fostering a culture that promotes ethical practice within the organization;
xxiii.        Ensuring succession management and employee growth and development.
 
 
2) Person Specification
For appointment to this grade, a candidate must have:-
     i.        At least fifteen (15) years' work experience in a public or private institution five (5) of which must be in senior management
    ii.        Bachelor's Degree in any of the following disciplines: Agriculture Sciences, Environmental Sciences, Bio-Chemistry, Analytical Chemistry, Environment Chemistry, Veterinary Medicine, Livestock Production or equivalent qualification from a recognized institution;
   iii.        Master's Degree in Agriculture, Plant Pathology, Crop Protection, Environmental
Health, Bio-Chemistry, Analytical Chemistry, Environmental Chemistry, Veterinary
Medicine, Livestock Production, Toxicology, Entomology, Weed Science or equivalent qualification from a recognized institution;
   iv.        Understanding of Multilateral Environmental Agreements related to pesticides;
    v.        Knowledge of the regional and international treaties and conventions applicable to pesticide regulations;
   vi.        Leadership course lasting not less than four (4) weeks from a recognized institution;
 vii.        Demonstrated merit and ability in work performance and results;
viii.        Proficiency in computer applications skills;
   ix.        Fulfill the requirements of Chapter six of the Constitution.
 
3) Key Competencies and skills
     i.        Strong analytical skills;
    ii.        Strategic and innovative thinking;
   iii.        Ability to mobilize resources;
   iv.        Strong interpersonal skills;
    v.        Strong leadership skills; and
   vi.        Negotiation skills.
 
If you believe you meet the criteria for the position, please submit your application by post or hand or email enclosing/attaching copies of your national identity card or passport, academic and professional certificates (applicants with foreign degrees will need clearance from the Commission for University Education), a detailed curriculum vitae, testimonials, email and telephone contacts of three (3) referees in a sealed envelope clearly marked with job title to the address below on or before 8th November, 2023 at 5.00 p.m, Nairobi time.
 
The Chairman
Pest Control Products Board
PCPB Building, 4th Floor,
Off Waiyaki way, Loresho
P. O. Box 13794 – 00800
NAIROBI
 
Or email
chair2023c@pcpb.go.ke
 
Only shortlisted candidates will be contacted.
 
Please note that the shortlisted candidate shall be required to submit clearance certificates from:
 
(i)           Ethics and Anti-Corruption Commission;
(ii)          Directorate of Criminal Investigations;
(iii)        Credit Reference Bureau;
(iv)        Kenya Revenue Authority; and
(v)          Higher Education Loans Board.
 
Pest Control Products Board is an equal opportunity employer, committed to diversity and gender equality and therefore encourages qualified persons living with disabilities, women and those from marginalized areas to apply.
 
Sharing Experiences and Knowledge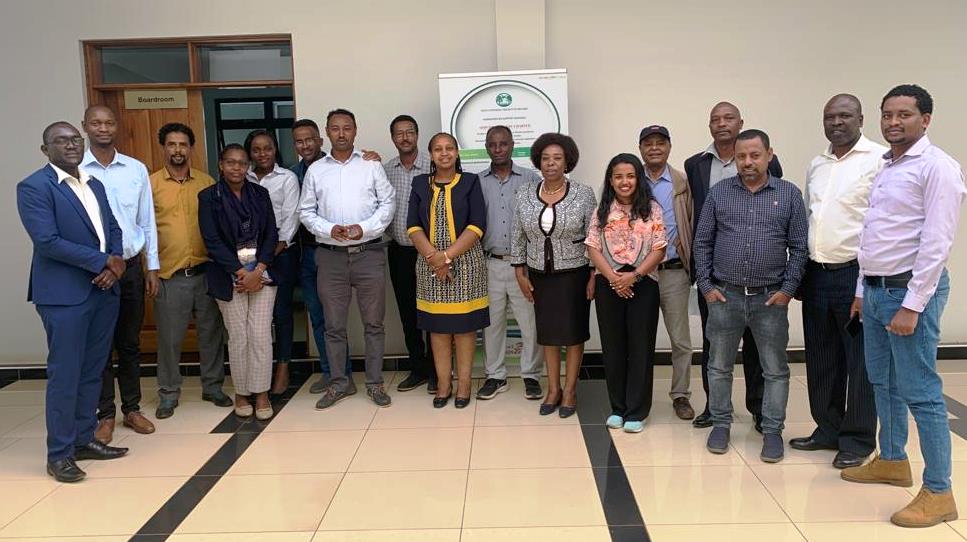 Fostering Regional Cooperation. Expert Mission by Delegates From Federal Republic of Ethiopia on False Codling Moth (FCM)
12.01.2023: The Pest Control Products Board (PCPB) received delegates from the Federal Republic of Ethiopia. The expert mission was in the country to learn from Kenya's experience in the management of False Codling Moth (FCM). The expert mission which was from Ethiopian Agricultural Authority (EAA) and Ethiopian Horticulture Association (EHPEA) was taken through PCPB response to the FCM. The PCPB shared its experience and best practices in providing solutions to combating FCM.
 
Ethiopia which is one of the main growers and exporters of rose flowers in the World is facing challenges of FCM in roses. The FCM was designated as a quarantine pest, and trading partners require that exported fresh produce should be free of the pest.
 
PCPB has currently approved both chemical (https://www.pcpb.go.ke/crops/) and biopesticides (https://www.pcpb.go.ke/biopesticides-on-crops) pest control products for the management of FCM in Roses, Avocadoes, Capsicum, Chili peppers, Tomatoes, Watermelon.
 
The PCPB continues to be a leader in pest control products governance and is on hand to share its expertise to build regional, continental, and international good practices in the pest control products regulation.
Anugrah Shaw , Olivier Sanvido ,Githaiga Wagate(2023), and Markus Röver Pesticide operator safety: A global framework to support operator safety at the "local" level CABI Reviews (2023) 18:1 https://doi.org/10.1079/cabireviews.2023.0025
Anugrah Shaw , Sabine Martin , Claudia Großkopf , Olivier Sanvido , and Githaiga Wagate (2023). Improvement in operator safety for low- and middle-income countries: A user-friendly, consistent risk assessment and mitigation process CABI Reviews (2023) 18:1 https://doi.org/10.1079/cabireviews.2023.0026
---
Road Safety Mainstreaming
Gender Mainstreaming

Alcohol and Drug Abuse (ADA)
Tab
1. Never drive through moving water if you can't see the ground through it. Do not drive around road barricades; they are there for your safety, the road or bridge may be washed out | 2. Make sure that the windscreen wipers are in proper working order; change the wiper blades before the rainy season arrives. | 3. Turn on your headlights when driving in rainy weather. | 4. Make sure patience is exercised while driving many accidents are caused by impatient drivers who are rushing to get from point A to point B. | 5. 5. Don't make sudden stops or lane changes. Instead, take care to ensure that other drivers are likely to be able to predict your actions to maximize safety.
Stop Gender based violence: give equal opportunities to every gender | Create awareness on manifestation of Gender based violence | Empower the society on reporting gender based violence.
Effects of Alcohol & Drug Abuse: Heart diseases | Brain malfunctioning | Liver complications | Short-term effects such as impaired vision | Depression, Relationship problems, Poor performance at work.